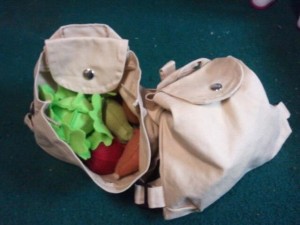 I finally finished the fruits and veggies. Due to time limits and the need to ship out one of the four sets, I had to make some cuts. I originally wanted to have grapes, bananas, eggplant and a last-minute cut, corn on the cob. The decision to cut those items was mainly the time involved to make them. Bananas and eggplant would have been simple to make but ran out of those colors to make them. So I decided if there was time still available that I would make them but time had run out. Grapes and corn on the cob had a lot of pieces involved in them, especially the corn on the cob.
The corn on the cob has several pieces. For the corn kernels alone was 11 pieces and each one had to be sewn to create a row of kernels to give it that look of corn on the cob. As for grapes, has a lot of pieces to put together and it depends on how big and how many grapes you want to put on it. I was worried that a two-year old would keep pulling on it to the point they would eventually fall off due to thread fatigue or the felt being stretched out of shape.
After finishing all the fruits and veggies, I wanted a tiny shopping bag for them but nothing look quite right. Either they were too big or the material was too cheap and felt like it would rip or fall apart too easily. I wanted something just a little more durable. I stopped in JoAnn's fabric and craft store and see if they had any small canvas bags. When I got there they had medium-sized shopping bags, fanny packs, hobo bags and a bunch of aprons. Then I noticed that there was small backpacks. They offered black, natural and bright pink. I couldn't pick black since they were all out. I was going to go with bright pink for the girls but it clashed with the ribbon I plan to decorate each with. One will get Dora the Explorer, another will get Disney Princesses, another will get Disney Cars and for my little niblet, she's getting Hello Kitty  since there wasn't a ribbon that was Toy Story or Ni Hao Kai-lan. I should have those on the backpacks tomorrow and be able to ship out the Disney princesses backpack so she can have it for Christmas.
I'll be back in the New Year and a new project. I have a few ideas and I'll decide during the holiday time to figure out which one I'll do first. Happy Holidays  and Happy New Year to everyone!